< Back to all results
September 19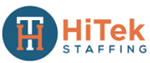 Looking for Mid & Senior Corporate RecruiterMust have experience supporting Federal Agencies
Location Washington DC
Type: Full-time, Permanent
Salary + Benefits
BA/BS degree preferred but not required- Must have experience in IT Staffing company. Federal or commercial experience is a plus.
3-5 + years professional experience in a staffing, corporate, recruiting or professional sales environment Ability to develop customer relationship management, consultative and negotiation skills.
Proven organizational skills with attention to detail and the ability to self-manage, prioritize initiatives and work well in a team environment with competing demands and tight deadlines.
Excellent verbal and written communication skills with an emphasis on tact and diplomacy.
Strong internet research skills. Proficiency in MS office, including Word and Excel. Ability to grasp cutting edge technologies
Apply